Rokas (Athens) actively participated in the 8th AIDA (Association Internationale de Droit des Assurances/International Insurance Law Association Europe) Europe Conference, titled "Landfall of theTech Storm", which took place October 3 – 4, 2019 at the Calouste Gulbenkian Foundation in Lisbon, Portugal.
In particular, Alkistis Christofilou, Partner of Rokas (Athens), moderated the Hot Topics/ Key Developments session.
The panel members and topics were the following:
Hugo Borginho, Director of the Department of Risk Analysis and Solvency, Autoridade de Supervisão de Seguros e Fundos de Pensões – ASF, Lisbon: "Sustainable Finance for Insurance Undertakings";
Peggy Sharon, AIDA President, Partner, Levitan Sharon & Co, Tel Aviv / Israel : "Insurance Companies' own Exposure to Cyber Risks – The Liability and ORSA Perspective";
Philipp Frech, General Counsel & Corporate Secretary, B3i Services AG, Switzerland: "DLT Platforms in Insurance";
Anthony Perotto, Partner, NCTM Milan, London: "Insurability of (GDPR) fines and penalties: European landscape and developments".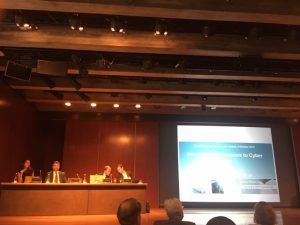 In addition, during the works of the conference, Viktoria Chatzara, Senior Associate of Rokas (Athens), also presented her paper titled "The interplay between the GDPR and the IDD", as one of the four winners of the AIDA Europe Young Authors Awards 2019.