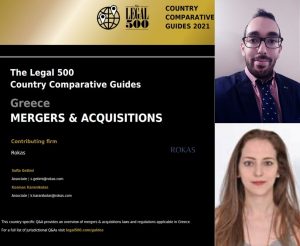 Rokas would like to share the latest 5th edition of The Legal 500: Mergers & Acquisitions Country Comparative Guide. Τhe guide provides the readers with a pragmatic overview of Merger & Acquisitions laws and regulations in Greece. Each chapter includes information about market sectors, regulatory authorities, due diligence, deal protection, public disclosure, governing law, director duties and anticipated key influencing factors on the M&A activity over the next two years in Greece.
You can read more and access the chapter here: https://www.legal500.com/guides/chapter/greece-mergers-acquisitions/?export-pdf
Rokas contributed the Greek chapter of the guide as an exclusive contributor. Authored by Associates Sofia Getimi and Kosmas Karanikolas.