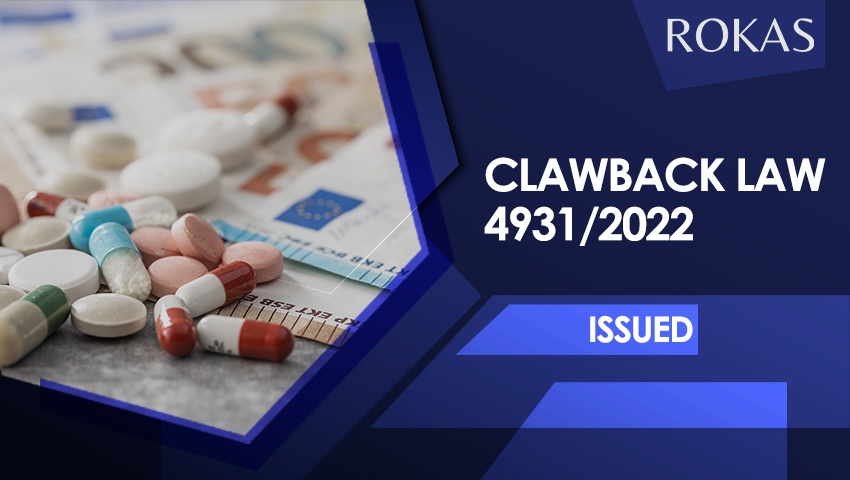 by Konstantinos Ntallas
"On May 13th Law 4931/2022 ("Doctor for all, equal and quality access to the services of National Health Service and Primary Health Care and other provisions") was issued on the Government Gazette and it brought a number of changes regarding the "clawback" mechanism.
The main clawback changes are the following:
a) The market share of growth is abolished as a criterion for the allocation of the hospital and outpatient automatic clawback amount to Marketing Authorisation Holders (MAHs) or pharmaceutical companies.
b) An additional rebate up to three percent (3%) on the ex-factory price may be imposed on MAHs or pharmaceutical companies for certain drugs (such as Very Expensive Drugs "FYK", ATC-4 drugs etc.). This is not applicable on drugs that are subject to a closed budget agreement or to drugs having a daily treatment cost not exceeding the amount of EUR 0.20.
c) The infamous rebate polynomial algorithm is once more amended and it includes an additional mandatory 5% discount on all non-generic pharmaceutics, regardless of their insurance price, with a retail price of more than EUR 10.
d) A maximum clawback rate is determined that may be imposed on MAHs and pharmaceutical companies, which supply medicines to NHS hospitals as well as to "Papageorgiou General Hospital of Thessaloniki" and it depends on the supply value of said medicines. The maximum amount rate varies depending on the supply value of pharmaceuticals. The excess clawback amount is sought proportionally by the other categories of pharmaceutics.
To be noted that Rokas Law Firm was the first law firm in Greece to successfully challenge the imposition of clawback on orphan drugs. Despite the Supreme Administrative Court's previous overall dismissive case law regarding clawback in general as well as in respect with particular kinds of drugs, e.g. for HIV, the Court issued a first varying decision in September 2019, which annulled the imposition of clawback on orphan drugs. The decision was reaffirmed by three subsequent decisions which were issued in 2019 and 2020 on cases represented by Rokas Law Firm. The Court held that the enforcement of the mechanism on orphan drugs, which treat a small and slightly changing number of strictly identified patients suffering from rare diseases, does infringe the constitutional principles of equality and proportionality.
Finally, clawback is currently under scrutiny in the Court on a wider level (i.e. not with specific reference to orphan drugs only) as far as the legality of the measure is concerned in the light of its protracted duration. Due to its importance, the issue of whether the measure of clawback remains in accordance with the Constitution even after Law 4549/2018, was referred to the Plenary of the Court."
————————————————————————————————————————————————————————————————–
"Στις 13 Μαΐου εκδόθηκε στην Εφημερίδα της Κυβερνήσεως ο νόμος 4931/2022 ("Γιατρός για όλους, ισότιμη και ποιοτική πρόσβαση στις υπηρεσίες του Εθνικού Συστήματος Υγείας και της Πρωτοβάθμιας Φροντίδας Υγείας και άλλες διατάξεις"), ο οποίος επέφερε μια σειρά από αλλαγές σχετικά με τον αυτόματο μηχανισμό επιστροφής ("clawback").
Οι κυριότερες αλλαγές στο clawback είναι οι εξής:
α) Καταργείται το μερίδιο αγοράς της ανάπτυξης ως κριτήριο για την κατανομή του ποσού του αυτόματου clawback για τη νοσοκομειακή και εξωνοσοκομειακή δαπάνη στους Κατόχους Άδειας Κυκλοφορίας (ΚΑΚ) ή στις φαρμακευτικές επιχειρήσεις.
β) Επιπρόσθετη έκπτωση έως τρία τοις εκατό (3%) επί της εργοστασιακής τιμής μπορεί να επιβληθεί στους ΚΑΚ ή στις φαρμακευτικές επιχειρήσεις για ορισμένα φάρμακα (όπως τα Φάρμακα Υψηλού Κόστους "ΦΥΚ", τα φάρμακα του ATC-4 cluster κ.λπ.). Αυτό δεν ισχύει για φάρμακα που υπόκεινται σε συμφωνία κλειστού προϋπολογισμού ή για φάρμακα με ημερήσιο κόστος θεραπείας που δεν υπερβαίνει το ποσό των 0,20 ευρώ.
γ) Ο περιβόητος αλγόριθμος του πολυωνύμου rebate τροποποιείται για άλλη μια φορά και περιλαμβάνει επιπλέον υποχρεωτική έκπτωση 5% σε όλα τα μη γενόσημα φάρμακα, ανεξαρτήτως ασφαλιστικής τιμής, τα οποία έχουν λιανική τιμή άνω των 10 ευρώ.
δ) Καθορίζεται μέγιστο ποσοστό clawback που μπορεί να επιβληθεί σε ΚΑΚ και φαρμακευτικές επιχειρήσεις, οι οποίες προμηθεύουν φάρμακα σε νοσοκομεία του ΕΣΥ καθώς και στο "Γενικό Νοσοκομείο Θεσσαλονίκης Παπαγεωργίου" και εξαρτάται από την αξία προμήθειας των εν λόγω φαρμάκων. Ο ανώτατος συντελεστής ποσού ποικίλλει ανάλογα με την αξία προμήθειας των φαρμάκων. Το υπερβάλλον ποσό clawback, αναζητείται αναλογικά από τις υπόλοιπες κατηγορίες φαρμακευτικών προϊόντων.
Σημειώνεται ότι η Δικηγορική Εταιρία Ρόκας ήταν η πρώτη δικηγορική εταιρεία στην Ελλάδα που αμφισβήτησε επιτυχώς την επιβολή clawback στα ορφανά φάρμακα. Παρά την προηγούμενη απορριπτική νομολογία του Συμβουλίου της Επικρατείας (ΣτΕ) σχετικά με το clawback εν γένει καθώς και σε σχέση με συγκεκριμένα είδη φαρμάκων, π.χ. για τον ιό HIV, το ΣτΕ εξέδωσε μια πρώτη αποκλίνουσα απόφαση τον Σεπτέμβριο του 2019, η οποία ακύρωσε την επιβολή του clawback στα ορφανά φάρμακα. Η απόφαση αυτή επιβεβαιώθηκε με τουλάχιστον τρεις επόμενες αποφάσεις που εκδόθηκαν το 2019 και το 2020 σε υποθέσεις που χειρίστηκε η εταιρία. Το ΣτΕ έκρινε ότι η επιβολή του μηχανισμού στα ορφανά φάρμακα, τα οποία χρησιμοποιούνται για τη θεραπεία ενός μικρού και περιορισμένα μεταβαλλόμενου αριθμού αυστηρά προσδιορισμένων ασθενών, που πάσχουν από σπάνιες ασθένειες, παραβιάζει τις συνταγματικές αρχές της ισότητας και της αναλογικότητας.
Τέλος, το clawback εξετάζεται επί του παρόντος από το ΣτΕ σε ευρύτερο επίπεδο (δηλαδή όχι με ειδική αναφορά στα ορφανά φάρμακα) όσον αφορά τη νομιμότητα του μέτρου υπό το πρίσμα της παρατεταμένης διάρκειάς του. Λόγω της σπουδαιότητάς του, το ζήτημα του κατά πόσον το μέτρο του clawback παραμένει, ακόμη και μετά το νόμο 4549/2018, σύμφωνο με το Σύνταγμα, παραπέμφθηκε στην Ολομέλεια του Δικαστηρίου."